Consumer Financing Company Saves
with Hybrid Shipping Strategy
Background
A national consumer financing company that provides payday loans, title loans, and short-term cash advances needed a timely, cost-effective strategy for mailing 1 million to 3 million snap packs each month to potential customers located across the country. Tri-Win was selected to produce, print, and mail the snap packs.
Challenges
The consumer financing industry is highly competitive and those retailers that can reach customers first are proven to be in the advantaged position of influencing the customer to select their business for loan products. Because this client was mailing across the country, it needed to reach customers before the competition via a reliable, cost-effective in-home delivery method. This reliability was also key to staffing retail stores and call centers efficiently, which hinged on when the mailers reached prospects.
With the sheer volume of snap packs being sent out each month, mailing costs had to be considered. Because the client was mailing nationally, certain areas would take longer to reach. As such, those delivery dates and costs had to be analyzed. In short, the client needed a strategy that forecasted delivery journey, timing, and costs.
Tri-Win's Role
Tri-Win assisted the client by analyzing the data lists to map each zip code to the most efficient delivery method. Tri-Win recommend a hybrid approach that included co-palletization (co-pal) and drop shipments. The strategy used would correspond with the number of pieces being mailed to each region. For example, Tri-Win advised that the client use co-pal to deliver to locations where a small number of pieces would be sent. Tri-Win then recommended drop ship for areas throughout the country where large quantities of mail were being delivered. Tri-Win's expertise in logistics and strong relationships with transportation providers allow the company to easily select the very best delivery method for the client.
Co-pal is a process similar to people sharing a taxi: If two people ride from one location to another, the cost is cut in half since they share the taxi fare. With co-pal, the client shared the cost of a delivery truck with other businesses mailing to the same part of the country. This streamlining allowed Tri-Win to offer a significant postage savings for the client.
With drop ship, which is most advantageous for larger mail quantities, a third-party logistics company delivers the mail to a specific distribution center. Depending on the location, drop shipping will reach its in-home target faster than standard mail delivery. And as long as the cost of the truck is less than the cost of postage, this strategy saves the client money over other alternatives.
By analyzing the data, Tri-Win was able to determine the best strategy for getting each snap pack further into the mail stream to save time and money.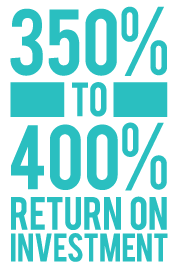 RESULTS
The results from the direct mail marketing campaign have been phenomenal. Thanks to postage and delivery savings, as well as a strong, effective marketing message and snap pack format, the client has cited an impressive 350 percent to 400 percent return on its investment.
Learn more about the ways Tri-Win can save money on postage and delivery costs with a hybrid shipping approach.
Contact one of Tri-Win's sales professionals at 214.826.2244 or 866.809.8998.