Ensuring all of the elements are in place
Your dedicated account manager works with the production team to ensure that every tab is in the right place, every indicia is applied, and every scratch off works. Our teams meet daily to discuss the particulars of each project, confirm that all of the right elements are accounted for, and to verify that all industry rules and regulations are being followed.
Our production team provides services such as:
High speed inserting: for special offers, announcements, buckslips, and more

Folding: clean, crisp folds so that every page has a professional appearance

Digital printing: provides the ability to vary content and artwork per customer

Tabbing: adding wafer seals or stickers to self mailers and more

Affixing: attaching keys, coins, magnets, and faux credit cards
Tri-Win Direct follows a stringent state-of-the-art quality control process to ensure every one of the 163,000,000+ pieces of mail we deliver each year is accurate, on time, and on budget. We automatically track 10% of all mail we process to ensure it's moving through the U.S. Postal System efficiently. To maintain our PCI/DSS Security Certification, all employees must pass a thorough background check prior to employment. Additionally, our facility is secured by access controlled locks, and operations are always under the watchful eye of 20 cameras that monitor around the clock. These security measures give our clients the assurance that all sensitive information is protected to the fullest extent possible.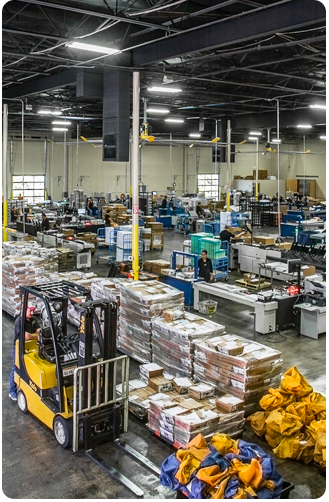 "You can depend on Tri-Win to handle your mailing on time and in an organized and professional manner."
Doug Green